Registering the InnoTab® MAX
Introduction
Follow the steps below to register your InnoTab® MAX on Learning Lodge®.
Note: Wi-Fi is required for registration. Please make sure you are connected to a Wi-Fi network before attempting to register the tablet.
---
Step 1 - Create or Log In to a VTech Parent Account
In order to use all the great features of your InnoTab® MAX, you will need a VTech® Parent Account.
Touch "Create New Parent Account" to sign up for a new account. If you already have an account from another VTech product you own, touch "Log In With Existing Parent Account".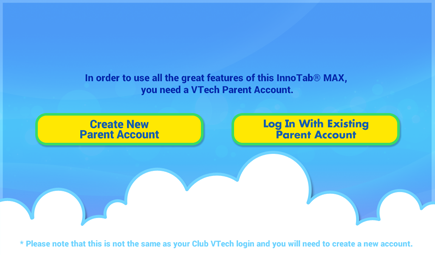 To create a new Parent Account, fill in the requested information. The email address you enter will be used as your login ID. Important information may be sent to you through this email so please make sure it is valid. Accept the terms and conditions when you're done, and then touch "Continue" to proceed.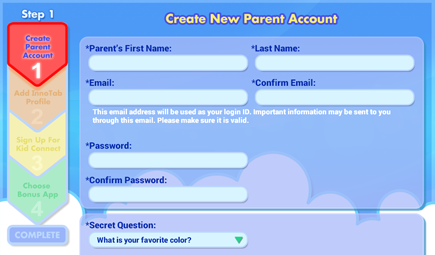 To log in to an existing Parent Account, enter your login ID and password and touch "Log In" to continue.
If you can't remember your password, touch "Forgot your password?" to reset it. An email will be sent to your email address with further instructions.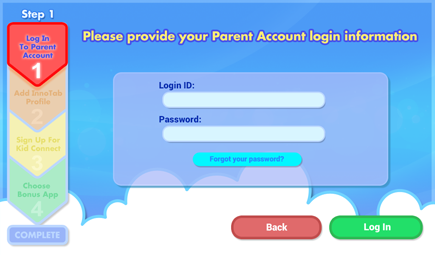 ---
Step 2 - Add An InnoTab Profile
Next, create a profile for the child who will be using the tablet. Enter the requested information and touch OK when you're done.
The tablet holds up to four profiles. You can add more profiles at any time by going to the Profile Manager section in Parental Controls.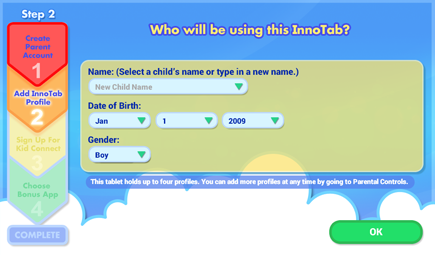 ---
Step 3 - Sign Up For Kid Connect
With VTech Kid Connect, you can send messages to your child's InnoTab® from a tablet or smartphone.
Your Kid Connect login information will be filled in automatically. Please pay attention as you will need this information to use the service. Accept the terms and conditions, and then touch "Continue" to proceed.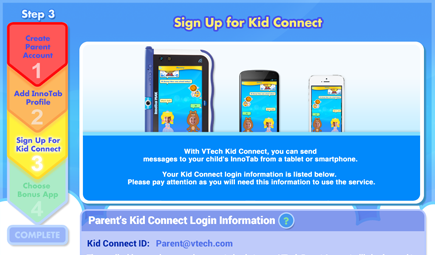 If you are already using Kid Connect, you'll see the screen below instead. Enter your Kid Connect account password, and then touch "Verify" to confirm your login information. Touch "Continue" when you're done.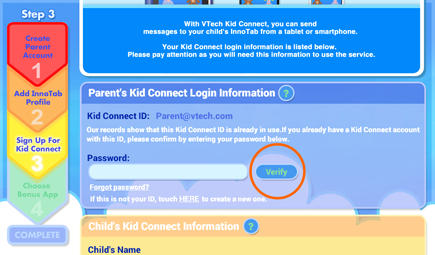 ---
Step 4 - Choose a Toca Boca Bonus App
Touch an app icon to see screenshots and some basic information about each app. To confirm your selection, touch the "Next" button.
Note: You can only redeem the bonus app once. If your tablet has already been registered before, you will see a message saying that the app has been redeemed. Touch the "Next" button to proceed.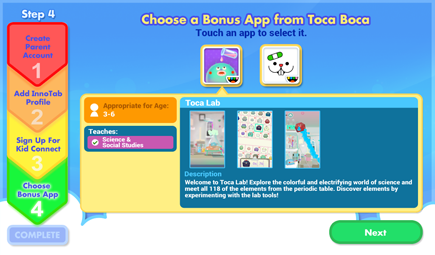 You've completed the registration! You will be invited to visit Learning Lodge® - VTech's online store. Touch the Learning Lodge® icon to visit the store.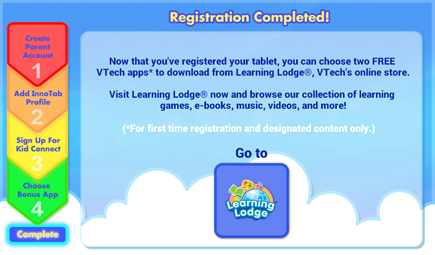 You'll get two free download credits for registering your tablet. These credits can only be used on select content. To redeem your credits, touch any of the apps that are marked "Free" to add them to your download cart.
Touch the Home button

to exit Learning Lodge® when you're done. You can visit Learning Lodge® anytime fom either the kid's desktop or the Parental Controls desktop.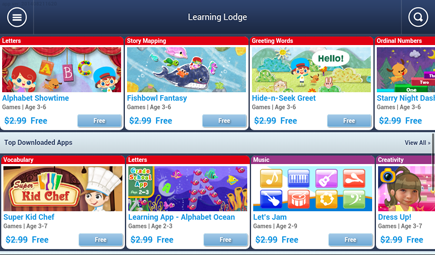 ---