You can quickly download a product manual from this site. Just enter characters in the text field below to display products beginning with those characters or leave it blank to show all manuals. Adobe Acrobat is required to view and download manuals; if you do not have this program, click here to download the Adobe Reader.
Select a letter below to display product manuals beginning with that letter.
2 manual(s) found for "E" .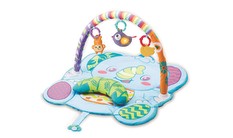 Explore and Learn Elephant Mat
Introduce your little one to playtime with the VTech Explore and Learn Elephant Mat! This adorable playmat provides babies with 3 ways to play including an option where babies can lay down on their back as they play with the included bird attachment, an option where they can lay on their tummy and an option where they can take the playset wherever they go.